...Rumors of My Departure
I hate to use the "I've been very busy" or "Real life has gotten in the way of blogging" excuse, as they both always seem vaguely insulting to me, the implication being that the people who have actually been diligent about updating their blogs have no life and have just been sitting around with their thumb up their ass, which of course isn't the case.
But just in case you were wondering what I've been doing for the past few weeks:
Buying a New House
When she was pregnant, my wife mentioned that with another body soon to be joining the household, we were going to have to look seriously at purchasing a larger home. I indulged her, responding in such a way that showed that I both totally agreed with her while at the same time making no commitment to do this within any sort of timeframe besides "someday".
But realizing that real estate prices, particularly in Southern California, don't tend to go down as you procrastinate, we felt compelled, despite the fact we were "just looking", to take advantage of a very good deal we found on a brand-new home over twice the size of our current one (well, good deal by California standards, I'm sure the price we paid would get you something resembling
Buckingham Palace
anywhere else in the country).
Ironically, one of the requirements of purchasing this house was that we sell our current home right away, even though the new home won't be ready, optimistically, until January. I guess they (the builder) want to make sure you'll have all your money ready when they start escrow on your new house and won't have any last-minute excuses to back out. So we bought a bigger house because we need more space, but for the next 6 months or so we're going to have to move into an apartment that is considerably smaller than what we're living in now.
Making a Very Brief, Guest Appearance in Northern CA to Celebrate Passover with my family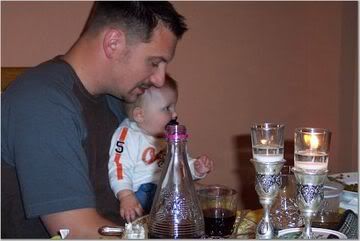 Baby Gooch's First Seder
To be honest, I'm not sure my son fully appreciates the plight of the Jews under the rule of the Pharaoh in Egypt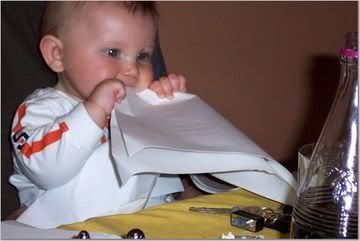 Baby Gooch eating the Haggadah
Getting a New Addition to the Family
One of the most attractive aspects of my wife's personality is seeing what a wonderful, caring, loving mother she is. Having said that, I'm not sure she's ever fully forgiven me for not producing her the baby daughter she always dreamed about.
I guess she was determined to get herself a little princess one way or the other.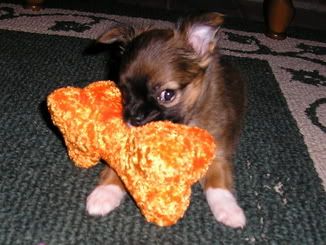 Added to the list of things I always said I would never do and then had to recant, which also includes working in sales, marrying a woman with kids and moving to the
Inland Empire
:
Get a little shit dog.